Bilingual/Multilingual parents' online workshop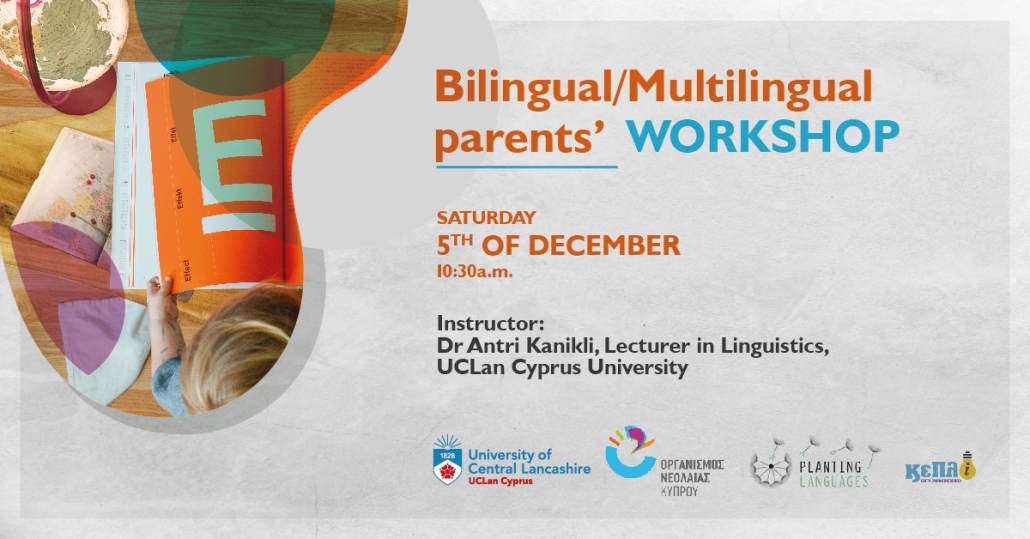 Are more than one languages spoken in your family?
Does your child need to acquire more than one languages?
Do you want to find out how you can help your child acquire these languages?
The Youth Information Centres of the Youth Board of Cyprus and UCLan Cyprus University are co-organising an online workshop for bilingual/multilingual parents on Saturday, 5th of December, at 10:30a.m. via ZOOM.
Multilingualism is generally seen as a task and responsibility of the family.
In this process, parents are the prime educators, and their choices are therefore tremendously important.
During the online workshop, participants will be involved in a process of sensitization and reflection on the subject of early multilingual education, and have the opportunity to have access to tools that will enable them to develop and follow their own strategies on multilingual education.
Register your participation at here or 22877513 by the 3rd of December.
Instructor: Dr Antri Kanikli, Lecturer in Linguistics, UCLan Cyprus University
The workshop will be delivered in English.
Participation is free of charge.
https://kepli.onek.org.cy/wp-content/uploads/2020/11/EpimorfotikoErgastiri_Banner1200x628px_112020_2_ENG.jpg
628
1200
Doxia Mina
https://kepli.onek.org.cy/wp-content/uploads/2020/09/logoEN.png
Doxia Mina
2020-11-26 16:50:45
2020-11-26 16:50:45
Bilingual/Multilingual parents' online workshop