Theatre and the Cypriot Society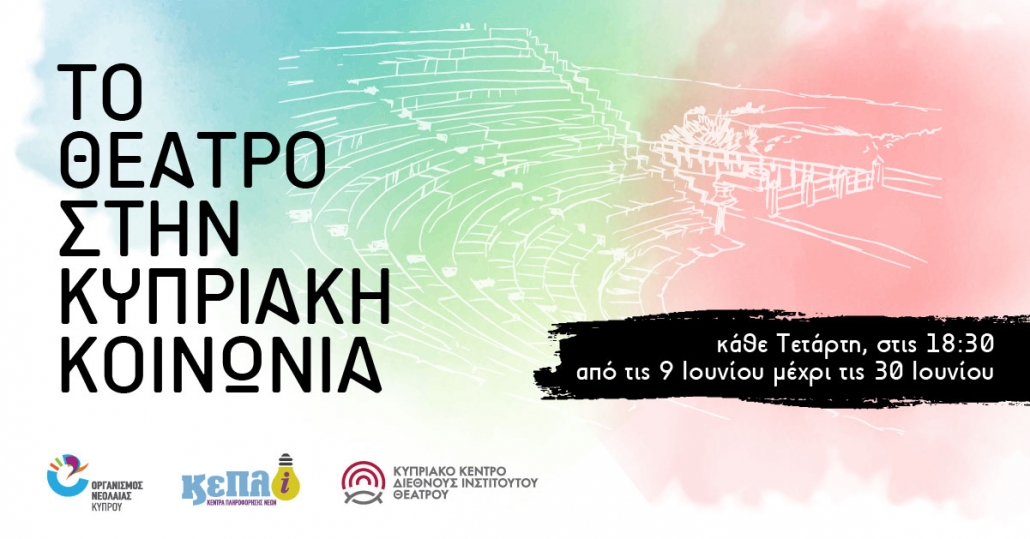 Τhere is no doubt that theatre is not confined to the limits of the scene, but extends to social, cultural, and political spheres.
The Youth Information Centres of the Youth Board of Cyprus in cooperation with the Cyprus Centre of the International Theatre Institute (CCOITI) co-organised a series of four online seminars under the title "Theatre and the Cypriot Society". The online seminars were carried out in June 2021 and the series aimed at highlighting the social character of theatre and at triggering a discussion on how various socio-cultural issues are addressed via theatre and how theatre can help society deal with the challenges it is faced with, such as the current pandemic, racism, socio-economic crisis and much more.
Moreover, the series discussed  how theatre can be used as a tool for inter-communal dialogue, what the role of Cypriot dialect in the modern Cypriot theatrical plays is, how the concepts of gender and identity are structured in the theatrical scene and how topics such as discrimination, immigration, democracy, are represented through the art of theatre and theatre plays.
https://kepli.onek.org.cy/wp-content/uploads/2021/05/Multipost-1-1.jpg
1081
1081
Doxia Mina
https://kepli.onek.org.cy/wp-content/uploads/2020/09/logoEN.png
Doxia Mina
2021-09-28 10:22:08
2021-09-28 11:11:10
Theatre and the Cypriot Society