Youth discussion: Public perceptions on the Cyprus issue and the role of CSOs for Intercultural Dialogue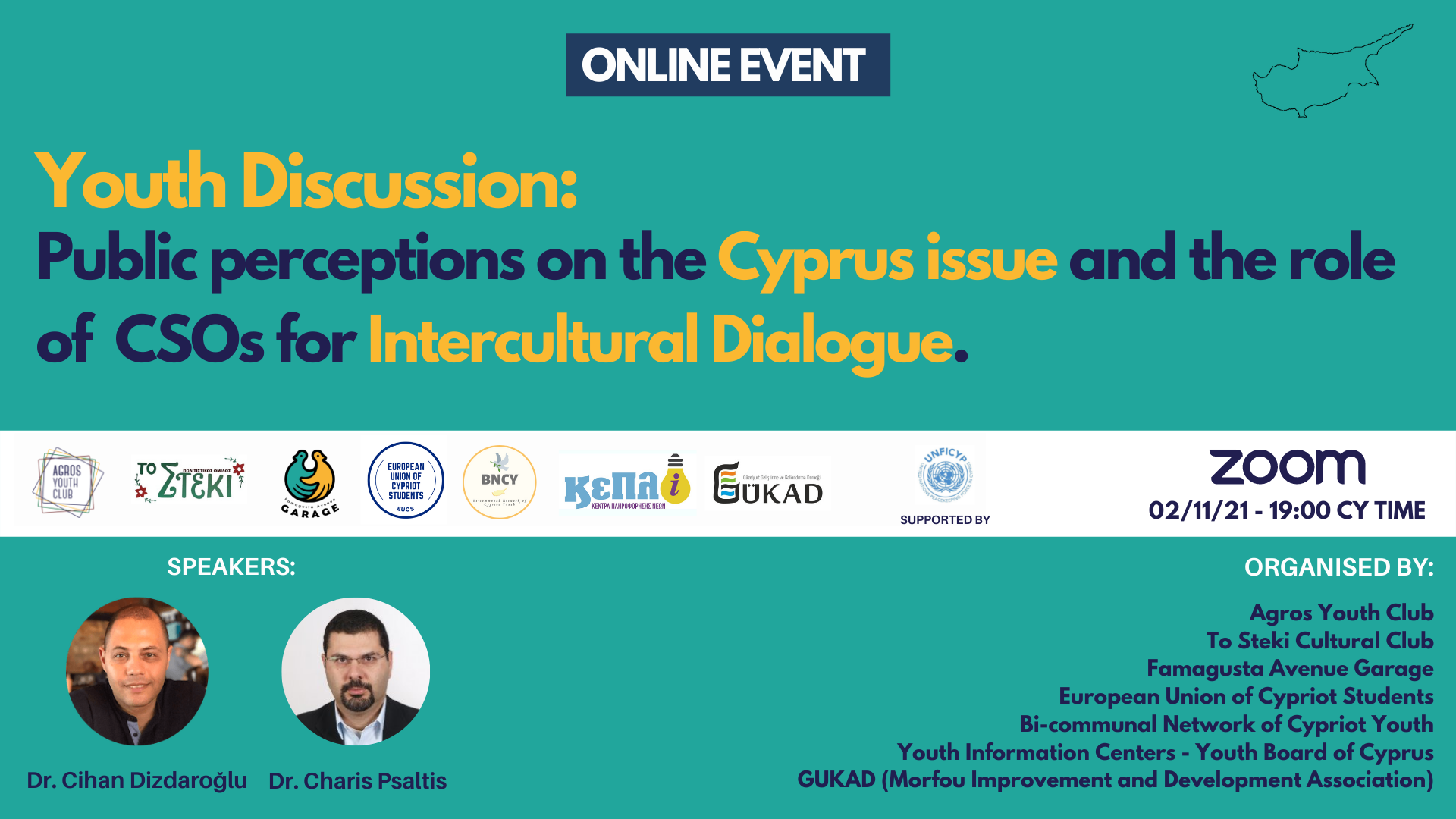 We are pleased to invite you to our upcoming online ZOOM event on November 2nd at 19:00 CY time, titled "Youth discussion: Public perceptions on the Cyprus issue and the role of CSOs for Intercultural Dialogue." 
This is the third of a series of discussions between Cypriot youth across the island. 
The Center for International and European Studies (CIES) at Kadir Has University in Istanbul, the University of Cyprus, the Centre for Cultural and General Studies (ZAK) at the Karlsruhe Institute of Technology, and the Center for Education, Research and Action FOTOESSA in Athens collected data for an Anna Lindh Foundation – funded project on how Civil Society Organizations (CSOs) in Turkey, Cyprus, Greece, and Germany can practice intercultural dialogue and contribute to tackling the challenges in the Euro-Mediterranean area. 
The latest survey findings regarding the stance of the Greek Cypriot and Turkish Cypriot communities on the Cyprus issue, will also be presented for discussion, followed by a Q&A. 
Speakers: 
Dr. Charis Psaltis, Assoc. Professor at the Department of Psychology at The University of Cyprus  
Dr. Cihan Dizdaroğlu, Assist. Professor at the Department of Politics and IR at Baskent University in Ankara
The event is co-organised by the Bi-communal Network of Cypriot Youth, Famagusta Avenue Garage, Youth Information Centers of Youth Board of Cyprus, Agros Youth Club, "To Steki" Cultural Club, GUKAD and European Union of Cypriot Students. 
The event is supported by UNFICYP. 
➡️ You can find more information here
https://kepli.onek.org.cy/wp-content/uploads/2021/10/Instagram-Post.png
1080
1080
Doxia Mina
https://kepli.onek.org.cy/wp-content/uploads/2020/09/logoEN.png
Doxia Mina
2021-10-27 13:02:02
2021-10-27 13:02:02
Youth discussion: Public perceptions on the Cyprus issue and the role of CSOs for Intercultural Dialogue