Youth's perceptions on politics, peace and inter-communal dialogue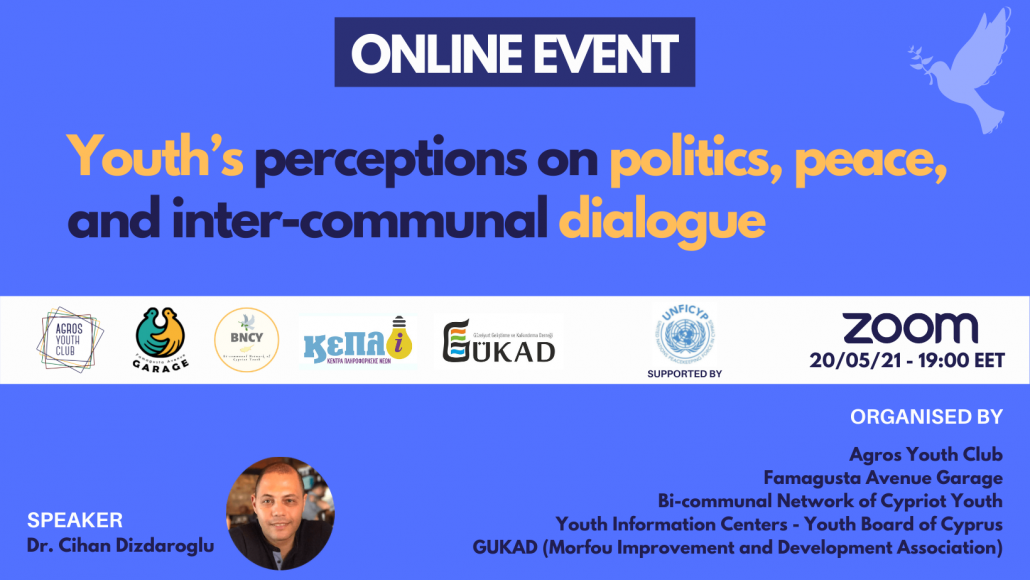 The voices of young people calling for change and peace in Cyprus are often ignored or suppressed. In an attempt to highlight the significance of their role in bringing change, Dr. Cihan Dizdaroğlu will present insights from his research on youth perceptions regarding politics, peace, and inter-communal dialogue (supported by PRIO/FES). Additionally, he will share how, given the opportunity, young people can become powerful agents of change in their respective communities.
This event will be held online on Thursday the 20th of May 2021, at 19:00 EET, via Zoom and Facebook Live, and is co-organized by: Agros Youth Club, Famagusta Avenue Garage, Bi-communal Network of Cypriot Youth, Youth Information Centers – Youth Board of Cyprus and GUKAD (Morfou Improvement and Development Association).
The event is supported by UNFICYP.
To join the event via Zoom, click on the following link:
https://york-ac-uk.zoom.us/j/92416581008
A Q&A session will follow Dr Dizdaroğlu's talk.
Speaker's Bio:
Dr. Dizdaroğlu is an assistant professor in the Department of Political Science and International Relations at Baskent University. He previously worked as a Marie-Curie fellow (2018-2020) at the Centre for Trust, Peace and Social Relations (CTPSR) at Coventry University and as a lecturer (2018-2021) at the Department of Political Science at Kadir Has University. He also served as the Director (2017-2018) of the Center for Turkish Studies at Kadir Has University and as the Project Coordinator (2009-2018) to the International Relations Council of Turkey. Dr. Dizdaroğlu holds Ph.D in International Relations from Kadir Has University. His academic interests include critical peace and conflict studies, youth and peacebuilding, critical security studies, Cyprus problem, Turkish foreign policy—particularly Turkish-EU relations and Turkish-Greek relations.
For any additional information, please contact us at [email protected]
https://kepli.onek.org.cy/wp-content/uploads/2021/05/Instagram.png
1080
1080
Doxia Mina
https://kepli.onek.org.cy/wp-content/uploads/2020/09/logoEN.png
Doxia Mina
2021-05-13 18:06:25
2021-05-13 18:10:47
Youth's perceptions on politics, peace and inter-communal dialogue